Vice President, Programs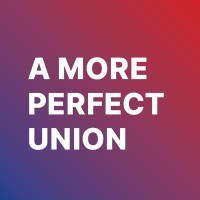 A More Perfect Union: The Jewish Partnership for Democracy
Administration
United States
Posted on Wednesday, November 1, 2023
ABOUT A MORE PERFECT UNION
A More Perfect Union: The Jewish Partnership for Democracy works to mobilize the American Jewish community to protect and strengthen American democracy in part by building and supporting a transpartisan Jewish collective-impact network. We pursue this work using three strategies:

We recruit and support Jewish institutions – our partners – to make and achieve contextually meaningful, action-based commitments to American democracy.
We weave our partners into a transpartisan collective-impact network of Jewish institutions learning from and supporting one another.
We articulate and elevate a compelling narrative about the Jewish commitment to protect and strengthen American democracy on both the Jewish communal and pro-democracy community's agendas.
In 2022, we focused our work entirely on helping to ensure a free, fair, safe, and accessible election. Since then, we've widened our aperture to include additional strategic priorities, including expanding opportunities for civic learning, cultivating the practice of democracy, and promoting ideological pluralism.
A More Perfect Union is committed to doing its work in a spirit of transpartisanship, working with pro-democracy leaders and institutions across the political and ideological spectrum in pursuit of our priorities.
A More Perfect Union is fiscally sponsored by Tides Center.
ABOUT THE POSITION
Building on deep relationships and a commitment to A More Perfect Union's mission, the VP recruits and onboards new partners, supports them to make and achieve meaningful commitments, conceives and implements relevant partner programming, and weaves partners into a robust and network capable of effective collective action. The VP prioritizes understanding partners' work, their challenges, what they need, and what they can contribute, and develops and implements programming that supports the network as a whole. This full-time work happens remotely based in the U.S. under the direction of A More Perfect Union's Executive Director.

Key Responsibilities
Recruit new partners and support them to make meaningful commitments
Working in partnership with the VP for Strategy and Communications, develop and lead a recruitment strategy to achieve annual goals for network growth (current network is ~125 partners with a goal to grow to ~200 partners by the end of 2024).
Help partners to identify and articulate meaningful commitments that are aligned with A More Perfect Union's strategic priorities and appropriate to their community and context.
Support partners to achieve their commitments through coaching, connections with resources and relationships, and programming that builds their knowledge and capacity.
Build partner capacity and weave partners into a generative network
Meet frequently with partners (primarily remotely) to build and deepen strong, meaningful, and trusting relationships among partners and between A More Perfect Union and its partners.
Identify trends/themes emergent across partners in terms of needs, strengths, opportunities, etc., that could inform programmatic priorities.
Develop and implement a programmatic portfolio that engages and builds the capacity of network partners (e.g., microgrants, convenings, educational events).
Weave and align the network in ways that connect partners across strategic priorities, geographies, sectors, ideological and denominational differences, and types of commitment, ultimately in service of building a network primed for collective action in response to democracy-related threats and opportunities.
Catalyze and support self-organizing among network partners.
Working in partnership with the VP for Strategy and Communications, assess and fulfill partners' communications and other content needs.
Working in partnership with the Senior Director of Operations, develop and refine operational plans to cultivate and maintain vibrancy of the partner network.
Play a significant role in organizational leadership
Supervise and support program staff to perform with excellence.
Serve on the organization's leadership team to help shape long-term strategy.
ABOUT YOU
You're excited about the mission of A More Perfect Union. You believe deeply in the promise of American democracy, the role of faith-based leadership in supporting it, and the potential for the Jewish community to play a part in protecting and strengthening it. While you likely have strong political beliefs, you are committed to pluralism and to collaborating with diverse partners – even those with whom you may have significant policy disagreements – in defense of democracy. You're eager to help people by building their capacity and confidence to help themselves. You love figuring out how to bring people together to collaborate in pursuit of big goals. You're intensely curious, eager both to learn new things and to regularly question your own assumptions. You seek out and appreciate working with people whose experiences and expertise are different from — yet complementary to — your own. And you're excited about joining a growth-stage initiative to help build its long-term vision and impact.

DESIRED QUALIFICATIONS, EXPERIENCES, AND SKILLS
10+ years experience in program and/or network building, including 3+ years managing staff at all career levels
Strong project-management skills including excellent attention to detail, organizational acumen, and the ability to manage projects with many moving parts
Experience in building and nurturing networks or communities of practice that encompass a range of perspectives and backgrounds, including proficiency in network-mapping approaches
Robust knowledge of and experience working with a diverse cross-section of the American Jewish community
Systems thinker who understands the big picture and larger context of the work
Excellent oral and written communications skills
Robust emotional intelligence, strong interpersonal abilities, eagerness to cross political and ideological boundaries, and capacity to effectively facilitate diverse groups
Proactive self-starter and problem solver who also knows how to ask for and receive help
Track record of demonstrating sound judgment (e.g., by making appropriate decisions, anticipating problems and innovating creative solutions), managing complex situations with discretion and tact, and prioritizing and completing tasks in a skillful and timely fashion
Skilled at building internal relationships on a small, nimble team and capable of operating at a high level both collaboratively and independently.
Commitment to experimentation, learning, and continuous improvement
Deep sense of the urgency and importance of the work coupled with humility, an ability to stay cool under pressure, and a great sense of humor
Working knowledge of Google Workplace, Slack, Asana, CRMs (we use Zoho), and other productivity tools and platforms, a plus
Commitment to A More Perfect Union's Core Values:
ACTION-ORIENTED. We prioritize action, both because our work demands urgency and because the best learning comes from experimentation, hypothesis-testing, and adaptation.
COLLABORATIVE. We know that none of us is as smart as all of us, so we are always looking for new people to learn from and dream and build with. And because we know that each of us only sees one part of the elephant, we seek to build a community rich with diverse identities, perspectives, and experiences.
TRUSTWORTHY. We know that organizations and networks move at the speed of trust. We work hard to earn and maintain the trust of our colleagues and our partners by prioritizing respect, empathy, reliability, and accountability.
CURIOUS. We are voracious learners, eager to deepen our understanding of the communities and fields in which we operate and resistant to pat answers to complex problems.
RESOLUTE. We believe that – with commitment and hard work – things can get better, and we resist succumbing to cynicism, complacency, or armchair outrage.
JOYFUL. We believe that our team and our work are more effective when we infuse them with playfulness, celebration, and a sense of humor.
WORK ENVIRONMENT
A More Perfect Union currently has team members in three states. While team members primarily work remotely, we gather in person regularly (4-6 times per year). Team members should expect to travel ~6-8 times per year. Tides (our fiscal sponsor) offers a generous benefits package including comprehensive medical, dental and vision insurance, paid time off, life and (short- and long-term) disability insurances, retirement plan, paid leave (12 weeks) and employee resources designed to support the passion and commitment that is vital to our team members. This is a U.S.-based position. The salary range for this position is $120,000-150,000 per year.
HOW TO APPLY
Please submit your resume and short response questions via Workable. Applications will be reviewed on a rolling basis with priority given to those received by November 30.
A More Perfect Union places a high value on creating and fostering an inclusive workplace. We do not make hiring decisions based on race, religion, gender, gender identity and expression, sexual orientation, political affiliation, pregnancy, disability, or any other status protected by law. Individuals from across the political spectrum who are passionate about protecting and strengthening American democracy are strongly encouraged to apply.
Not sure you meet 100% of our qualifications? Research shows that men apply for jobs when they meet an average of 60% of the criteria, while women and other people who are systematically marginalized tend to only apply if they meet every requirement. If you believe that you could excel in this role, we encourage you to apply. We are dedicated to considering a broad array of candidates, including those with diverse workplace experiences and backgrounds. Whether you're new to this field, returning to work after a gap in employment, looking to transition, or take the next step in your career path, we will be glad to have you on our radar.